Top 5 Most Picturesque Engagement Photo Spots in Birmingham
The rest of our great nation is starting to catch on to something that we've understood for decades: Birmingham is beautiful. With breathtaking views of the Appalachian foothills and a wealth of historic architecture steeped in eye-catching charm, downtown Birmingham and the surrounding metro area have understandably become a popular destination for photographers—and new couples looking to capture the perfect engagement photo.
Your engagement photography session is a chance to memorialize the happiness of your burgeoning love and create stunning save-the-date cards for your wedding. And in Birmingham, you have plenty of opportunities to show off the beautiful engagement ring that you and your fiancé have put so much thought into.
As Birmingham's oldest and most trusted jewelers, we've seen couples make memories all across the city. Here are our picks for some of the most timeless, unique, fun, and storied spots to capture the magic in the Magic City.
Sloss Furnaces
We find that Sloss Furnaces' soaring red steel structures against a jewel-blue Alabama sky make for an incredible engagement photo backdrop. There are so many intricate details in this place: sun-dappled pathways where diamonds can catch the light, old train tracks that lend themselves to beautifully framed angles, and a wealth of Southern history to give your photo shoot that extra touch of depth and meaning.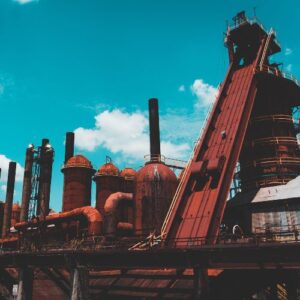 Morris Avenue
Morris Avenue's quaint narrow lanes and cobblestone street, framed by brick buildings and street lamps, have made it a "Birmingfamous" snapshot location. For a moment, posing on Morris Avenue feels like having Brooklyn in your backyard. A former warehouse district from the city's earliest days, this street has long been associated with hustle, bustle, and commerce. Today, new additions like Mercantile on Morris continue to elevate its status as a chic, boutique place to be—and to show off your engagement ring.
LightRails (The Rainbow Tunnels)
What once was a featureless underpass separating the southside from the north has been transformed into a breathtaking art installation, and a unique opportunity for Birmingham couples to announce their love in style. The LightRails project (which you may know simply as the Rainbow Tunnel) is located on 18th Street, just next to the beautiful Railroad Park.
This vibrant passageway will paint couples in multicolored light where the unique variations of hue, tone, and saturation are seemingly endless. An engagement photoshoot here is ideal for couples who want something a little different, a little quirky, and a lot more colorful!
Old Mill House in Mountain Brook
For rustic beauty and picturesque charm, the Old Mill can't be beaten. A symbol of Mountain Brook, the oak clapboard, split-shake, and stone structure retains its original wooden waterwheel nestled into the bank of Shades Creek. Though the Old Mill is technically a replica of an even older one, it's served as a community hub and crown jewel in our city for generations. Cozy, iconic, and classic, this timeless creation will provide a stunning natural touch to any engagement photoshoot.
Farm Bowl + Juice Co. Mural in Homewood
One of the newer hotspots in our fair metro area, Farm Bowl + Juice Co. has successfully created an instant classic with their simple yet powerful mural in downtown Homewood. Pastels of clementine, mint, grape, and rose play perfectly against white triangles in an effortlessly elegant pastel geometric pattern. With just enough urban intrigue and stylish sophistication, this spot is an ideal place for couples to strike a pose in their freshest fits (and eat some great food afterward, too!).
Get the Perfect Ring for the Scene at Bromberg's
Of course, you can't stage your perfect engagement photo shoot without the perfect ring. If you're looking for the statement piece to say everything and more, come by and see us at Bromberg's. We're also happy to resize, customize, and polish your engagement ring to stunning splendor to get it picture-ready. With two convenient locations in Mountain Brook & The Summit, we're ready and waiting to help you make your wedding dreams come true.
Bromberg & Co.: Birmingham's Trusted Jewelers Since 1836
Older than the city itself, we've been an integral part of Birmingham's wedding scene from engagement rings to wedding registries to anniversary gifts and beyond. Family-owned and operated through all these many years, Bromberg's has established a solid reputation as a fine purveyor of quality diamonds as well as jewelry, timepieces, and gifts. To request an appointment or ask us a question, call our Mountain Brook location at 205-341-0730 or our Summit location at 205-749-6703.