Creating a Seamless Wedding Day Timeline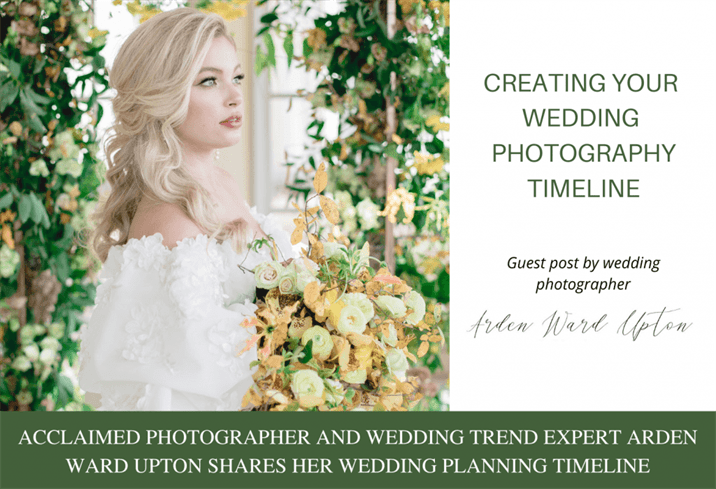 The daunting first stages of planning your dream wedding can quickly overwelm even the most organized brides. Our talented friend Arden Ward Upton, accomplished and highly sought after photographer and owner of Arden Photography, has put together a timeline that will help your wedding day run smoothly, especially when it comes to capturing the beautiful bridal portraits and unforgettable details of your big day.
Wedding Planning Timeline
Look into hiring a planner
In most cases, your planner has the experience to help you allot time where it needs to be to make sure your day runs smoothly.
Use a template that factors in the unique logistics of your wedding
Pad your timeline
Allow some buffer area for any mishaps or tardiness.
Generously hand out the day's agenda to EVERYONE
This includes your team, photographer, videographer, vendor(s), wedding party, and anyone else that you deem needs to know the schedule (if you have a planner, they will do this for you).
Don't create a photo list for your photographer
Do create an inspiration board
Hire a professional and they will already have the photo list and more than the basics down.
Do give them details about how many people are in your:
Family
Wedding Party
Guest List
Do advise them of any special people or photo ideas they need to know about.
Make time to eat
Keep the hangries at bay. One of the worst things you can do on your wedding day is not eat or drink. Keep dehydration far away by giving yourself breaks to refuel and have plenty of water (hydration is great for the wedding day glow in photographs).
Reception considerations:
Try not to let toasts take up too much time so that people don't become disinterested (this is a #1 complaint).
Cocktail hour should be 30 to 60 minutes (never longer) prior to the meal; try not to let it drag on.
Factor in your exit to make sure people are sticking around. No empty exit photos!
Questions to Consider:
Are you getting ready at your ceremony location? Does it have good lighting?
Will you be providing transportation for your wedding party?
How much time is in your photographer/vendors' contracts?
Are your ceremony and reception in separate locations? Be sure to account for driving time.
Does your reception venue have a curfew?
Sample Photo Timeline
Arden has graciously created sample day of schedule for brides, planners, and photographers that can easily be customized according to specific ceremony start times. Once your wedding day timeline has been finalized, be sure to share with everyone involved behind the scenes of your big day.
8:00 a.m. Hair and makeup begin
2:00 p.m. Bride gets dressed
2:15 p.m. Groom gets dressed
2:30 p.m. Bridal portraits; bridesmaids and groomsmen get dressed
2:45 p.m. First look
3:10 p.m. Wedding party photos
4:40 p.m. Family photos
5:00 p.m. Break for bride and bridal party, etc. Photographer captures details
6:00 p.m. Ceremony begins
6:30 p.m. Reception begins
6:35 p.m. Newlywed photos
6:50 p.m. Newlywed private meal
7:00 p.m. Sunset
7:20 p.m. First Dance
7:45 p.m. Cake cutting
8:30 p.m. Garter and bouqet toss
9:50 p.m. Last dance
10:00 p.m. Send off
11:00 p.m. Breakdown and cleanup complete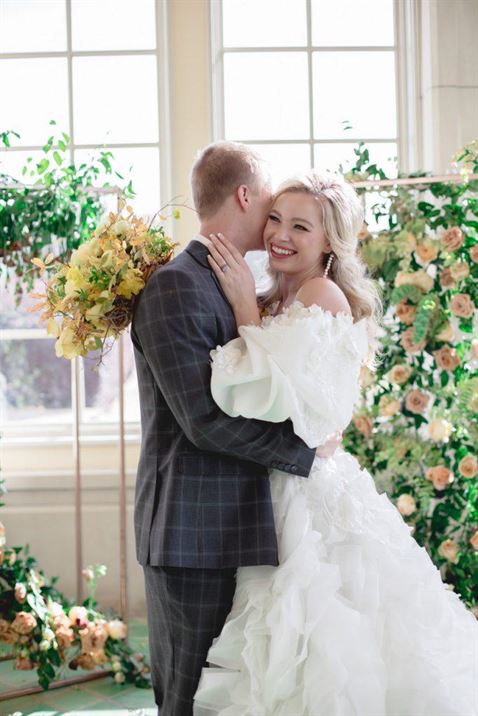 Arden Ward Upton / Owner Arden Photography