BROMBERG'S BRIDAL NEWS: New Earthborn, A Passion for Pasta, RSVP for Traditional Home Lunch & Learn with Juliska plus Holly and Ryan's Wedding
In this Issue"¦.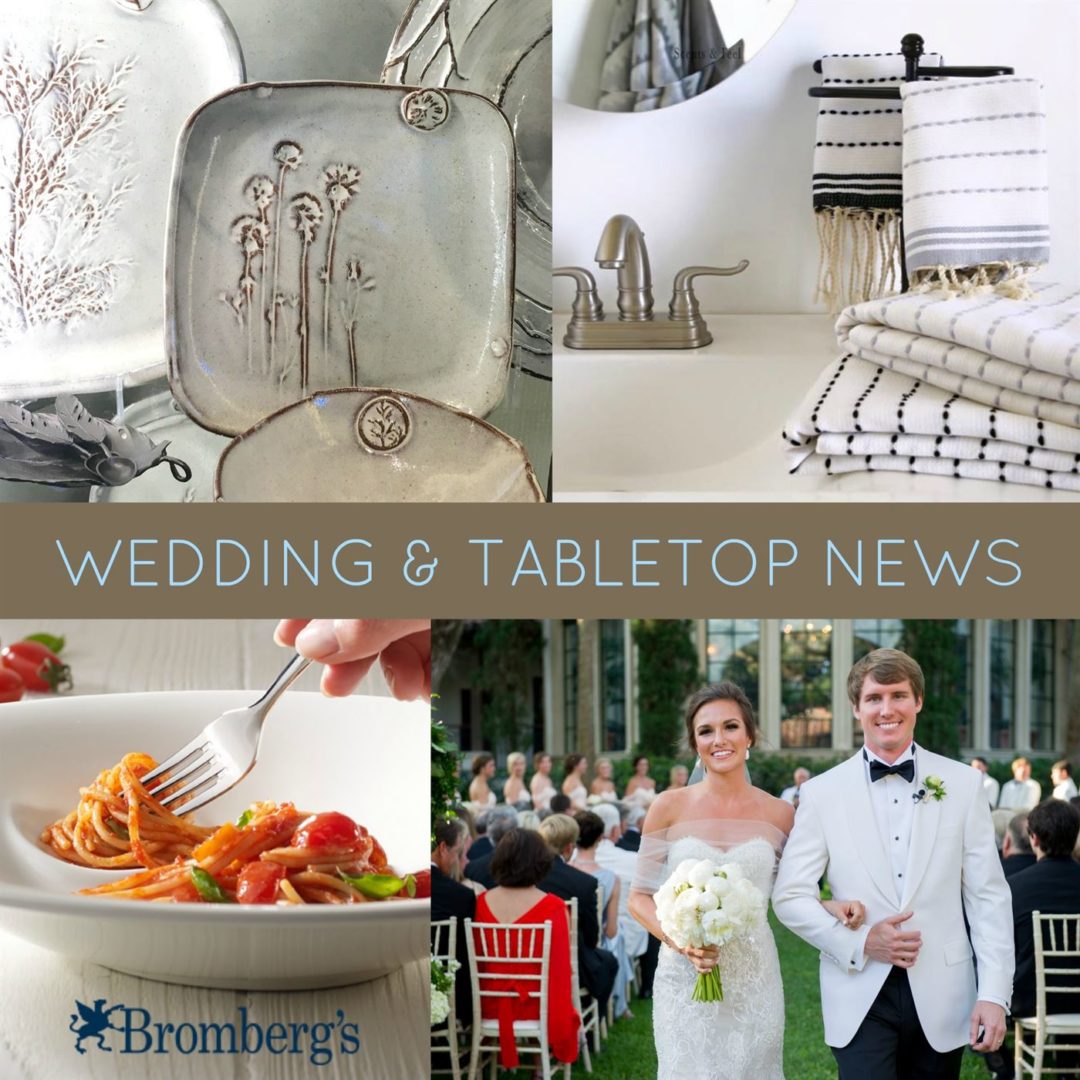 Featured Wedding: Holly and Ryan
Gift Gab: Turkish Guest Towels in Stock
Table Talk: New Earthborn Patterns in Stock
Buyer's Corner: Villeroy & Boch Pasta Passion
Events: Juliska Lunch and Learn October 13th
Gift with Purchase Event: Herend Customer Loyalty Gift
GIFT GAB: TAKE THEM TURKISH GUEST TOWELS
Have you ever used a Turkish towel? They are a wonderful Old World Mediterranean tradition which has found its way into contemporary life, the perfect gift for anyone who appreciates fine quality linen. Ours Scents and Feel collection of guest towels are a colorful mix of 100% natural hand woven textiles in an array of textures, patterns, colors and styles and have been featured in magazine such as House Beautiful, O, Architectural Digest, Traditional Home, In Style, Southern Living, and Coastal Living. Photos show represent some of our collection; stop in to see the latest arrivals for yourself. Scents and Feel guest towels from $20.

Need a gift in a hurry? Call us, we are more than happy to charge your gift, wrap it, and ship it for you! Phone: 205-871-3276
TABLE TALK: NEW EARTHBORN IN STOCK NOW!
Our exclusive Earthborn Pottery collection is growing with new shapes, patterns, and colors which have just arrived but are flying out of the store. Alabama potter and Leeds resident Tena Payne is recognized across the country and beyond as a leading artisan of culinary serving vessels. See why Hot & Hot Fish Club's Chef Chris Hastings and other highly acclaimed chefs use Earthborn to plate their dishes and swear by its service longevity and durability. Earthborn Pottery collection from $22
BUYER™S CORNER: WHAT™S NEW AND NOW
VILLEROY & BOCH: PASSION FOR PASTA
You may still have tons of cherry tomatoes left in your summer garden and serving a fresh pasta sauce made from them just got a lot easier with our new spaghetti bowl set from Villeroy & Boch. The special shape has not only won many design awards, (including a prestigious 2016 award for kitchen innovation) it will allow you to enjoy your pasta creations at the table or on the couch while you binge watch your favorite shows. Pasta Passion Spaghetti Plates, Set of 2 | $64
If grilling is more your thing, we have new Villeroy & Boch Grill Plates in stock now. Set of 2 | $80.
Don™t forget that our formal china collection is on display at the Mountain Brook location only.
OUR BRIDAL STAFF:
Mountain Brook 205-871-3276 mbbridal@brombergs.com
Janice, Vanissa & Courtni
Bromberg's at the Summit 205-969-1776 sbridal@brombergs.com
Katy Rose
Follow us on our social media channels for more on our latest products, contests, specials, and events!
CLICK HERE to view the photo gallery"¦
Bromberg's Brides Benefits
All registered brides receive these benefits:
20% off non-diamond wedding bands
20% off attendant gifts and hostess gifts
Buy or receive seven place settings of china, crystal, or silver, get the eighth free!
Bromberg's exclusive twelve-month interest free club plan (with credit approval)
EVENTS AT BROMBERG™S: JULISKA LUNCH AND LEARN
October 13, 2016
Space is limited. RSVP required.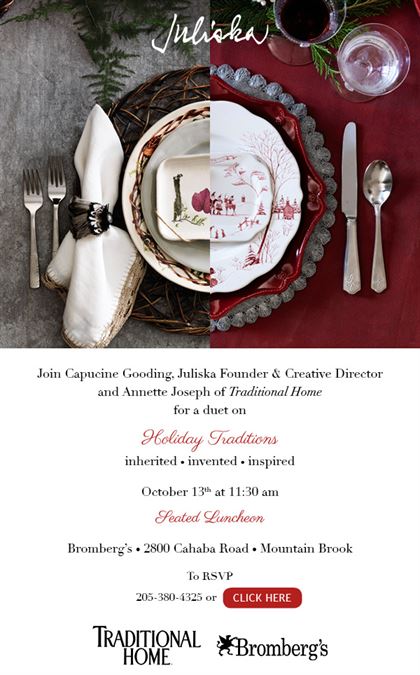 To RSVP or for more information, please contact one of our bridal consultants at the Mountain Brook location.
205-871-3276
HEREND CUSTOMER APPRECIATION MONTH
GIFT WITH PURCHASE SPECIAL
We want to say thank you for your loyalty! This month, Herend will give you a lovely, fishnet figurine free of charge when you purchase $500 or more of Herend from an authorized Herend retailer during September. These handmade and handpainted figurines with 24Karat accents are highly collectible. This a representation of some of the more popular figurines; there are hundreds more.
To add some fun and mystery, figurines will be selected at random from our stock of popular pieces to give you a pleasant surprise when it arrives. Purchases must occur between September I and September 30, 2016, and must total $500 or more in a single sales transaction. Limit one gift per customer. Submit your sales receipt and a completed form no later than October 31, 2016. One of our bridal consultants will provide the form for you and you may have your gift figurine shipped to your home or to the store for pick up.