Bridal News: Skyros Week Specials, Mother's Day Gifts, Madeline and Raynor Get Married!
IN THIS ISSUE
FEATURED WEDDING: Madeline Thomas Marries Raynor Boles
TABLE TALK: Skyros Week Begins May 2nd
GIFT GAB: Great Gifts for Mom and Grads
EVENTS: Meet Kathy Pitts from Skyros Designs, Gift with Purchase Events from Skyros and Simon Pearce
TABLE TALK: SKYROS WEEK
SIMPLY SKYROS: The first week of May is Skyros week! Exquisite European products for the table, home, and bath made by skilled artisans in Portugal, Skyros™ tabletop collections are made of a very strong thin body which is extremely chip resistant. Most of the dinnerware and accessories can go into a 500-degree oven as well as the freezer, microwave and dishwasher. Mix and match patterns and colors for endless options for everyday style, special occasions, or holiday entertaining. Skyros' philosophy: sharing your dinner table is a gift of love!
Meet Skyros President Kathy Pitts at our Mountain Brook location Thursday, May 5th from 10am-2pm. Scroll down to the Events section below for more details.
Our formal china collection is on display at the Mountain Brook location only.
Please contact our bridal consultants at one of these locations:
Janice, Vanissa & Courtni: Mountain Brook 205-871-3276 mbbridal@brombergs.com
Katy Rose: Bromberg's at the Summit 205-969-1776 sbridal@brombergs.com
GIFT GAB: GRADS & MOMS
WRAP THEM UP: We have new Alabama and Auburn throws in stock for that high school or college grad in your life. Perfect for eco-friendly millennials or your favorite couch potato, these throws are upcycled from old t-shirts, giving them a new life as a cozy throw made from refiberized t-shirt fabrics that are spun into beautiful cotton-blend yarn. This process helps reduce landfill use and requires no additional cotton dyes or chemicals. Modern, sustainable, and a great way to wrap that grad in love before you send them on to their next chapter in life. A Bromberg's exclusive, only $150.
BAGS FOR GRADS: Check out our collection of cross-body bags, totes, and small accessories in school colors- many can be personalized! Made of durable, water-resistant ballistic nylon, accented with premium Florentine leather details, and a natural cotton canvas interior, which makes them great for game day and travel, too. Prices begin at $50.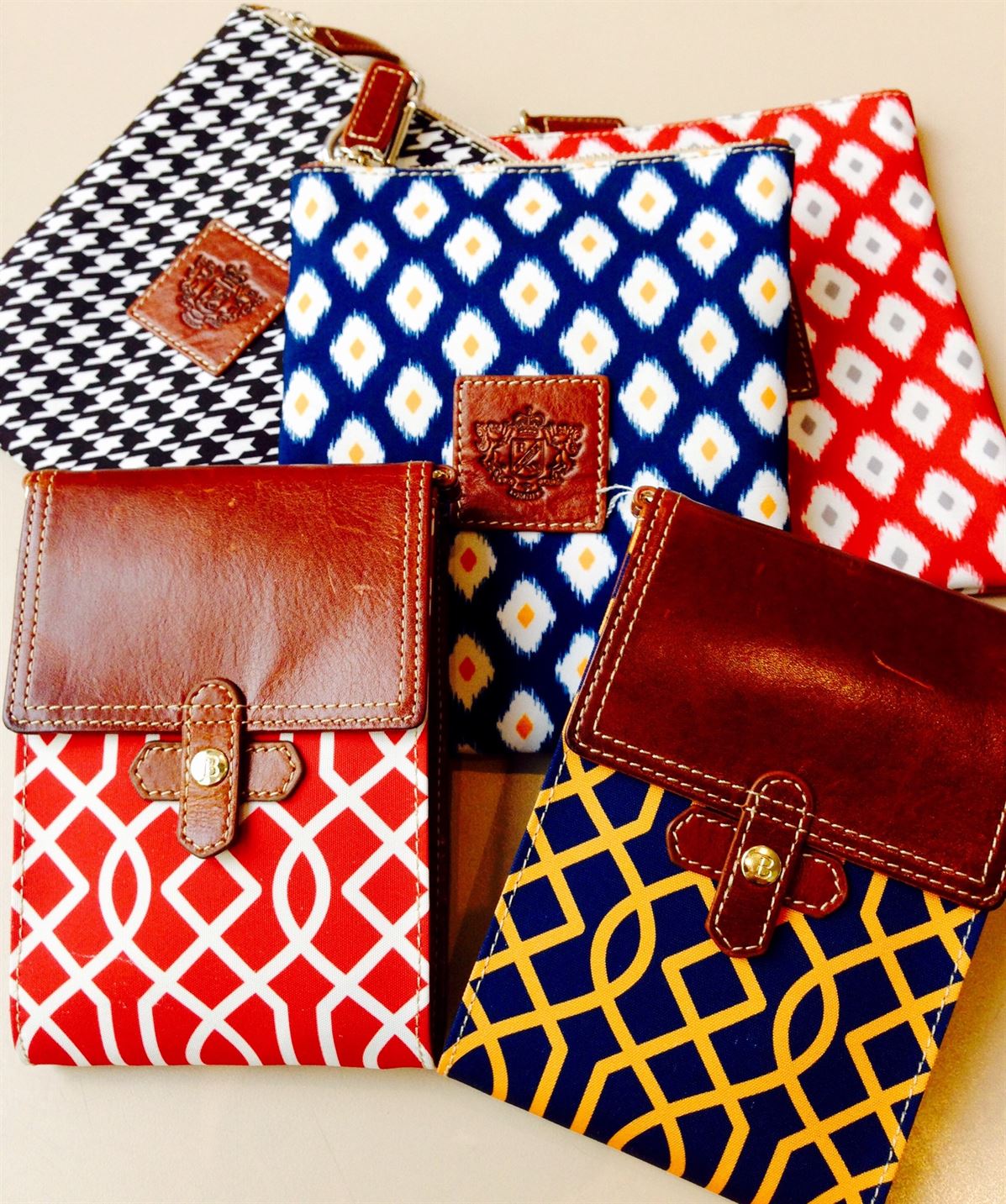 MOTHER™S DAY IS MAY 8TH!
We are partnering with Leaf and Petal stores this Mother's Day. Purchase a Simon Pearce vase or bowl from us and Leaf & Petal will arrange it for you with succulents and you will receive 15% off of your succulent arrangement at all Leaf & Petal locations. To make it even better, while supplies last, we have a Simon Pearce gift with purchase special. When you purchase $175 in Simon Pearce products, receive a Hartland Stone Butter Dish FREE! A $65 value.
A few examples of Simon Pearce vases and bowls are shown below but we have many more in stock. Stop in to see our full collection and buy two; one to give and one to keep!
FYI"¦ Our registered brides save 20% on attendant and hostess gifts and we™ll even wrap them for you in the traditional Bromberg's silver box!
Need a gift in a hurry? Call us, we are more than happy to charge your gift, wrap it, and ship it for you! Phone: 205-871-3276
Madeline Thomas met Raynor Boles when she was a sophomore in college. Seven years later, they married at Cathedral Church of the Advent in Birmingham with all of their friends and family beside them. Read their wedding story…
Bromberg's Brides Club Benefits All registered brides receive these benefits: 20% off non-diamond wedding bands 20% off attendant gifts and hostess gifts Buy or receive seven place settings of china, crystal, or silver, get the eighth free! Bromberg's exclusive twelve month interest free club plan (with credit approval)
EVENTS: MAY 2016
MAY 2nd – MAY 7th
SKYROS DESIGNS EVENT: A Palette of White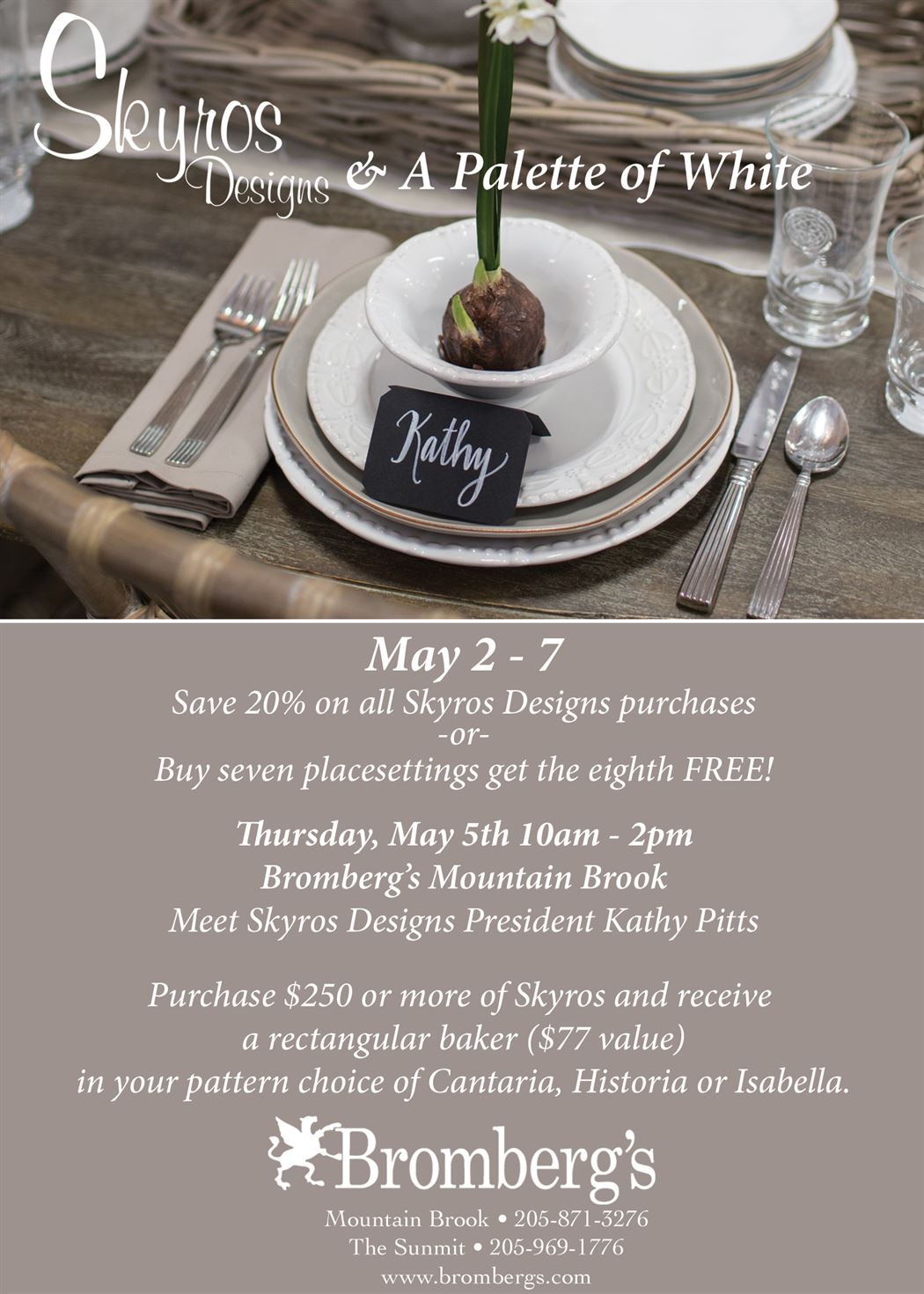 _______________________________________________________________________
NOW THROUGH MAY 21ST
SIMON PEARCE GIFT WITH PURCHASE EVENT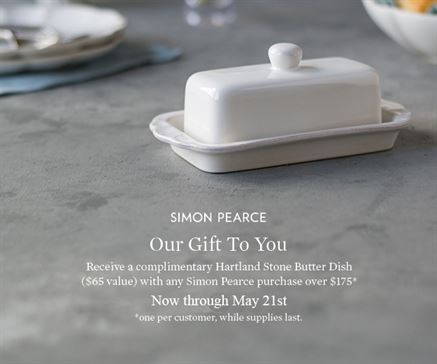 FOR MORE INFORMATION ON ANY OF OUR EVENTS CONTACT ONE OF OUR BRIDAL/TABLETOP EXPERTS
Janice, Vanissa & Courtni: Mountain Brook 205-871-3276
Katy Rose: Bromberg's at the Summit 205-969-1776