Bridal News: Buyers' Picks for Summer Entertaining, Gien Farm to Table, plus Maggie and Josiah Get Married!
IN THIS ISSUE:
WE'RE READY FOR THE 4TH!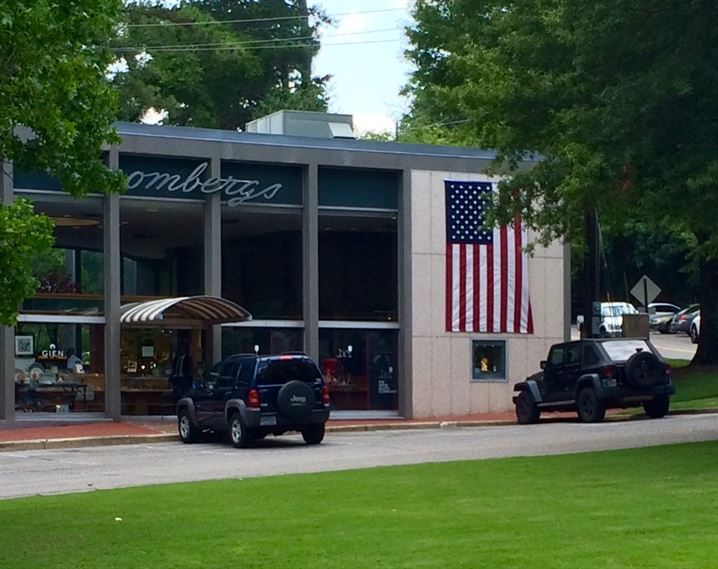 FEATURED WEDDING: MAGGIE HAYES & JOSIAH HELMS
TABLE TALK: GIEN'S FRENCH FARM TO TABLE CHARM
GIFT GAB: RIEDEL'S 260TH ANNIVERSARY SPECIALS
BROMBERG'S BUYERS' PICKS FOR SUMMER ENTERTAINING!
Bromberg's gift and tabletop buyers have assembled some captivating casual collections to bring the charm of the farm into your homes this summer. Their inspiration is a blend chic French country meets modern Southern plantation style with beautiful vintage flatware, blown crystal jugs, timeless linen and napkins with a dainty crocheted lace trim and enchanting farm animal prints, too. The photo above showcases Riedel wine glasses, a must for summer get-togethers for every foodie and wine lover.
H20 GLASSES FROM DARTINGTON
Shades of cool blue make the H20 collection from Dartington Crystal of England perfect for the lake or beach. The H20 collection was designed to encourage the enjoyment of tap water, but this hand-made glassware is equally suited for other refreshments. Mouth-blown and finished with a hand applied stamp, each item is authentic and unique yet is affordably priced for crystal of this caliber. Highball $28.50 Carafe $59 2-liter jug $75
WALKING PAPERS STUDIO HIGH FARM PRINTS
This delightfully charming collection of farm prints celebrates the many characters found on the farm; colorful chickens, cows, horses, and adorable goats. Each of the giclee prints in the High Farm series is a reproduction of a painting executed originally in watercolor, gouache, ink and pen. The original paintings have backgrounds treated with a traditional clay wash called bolle to prepare for the application of gold leaf; you may see hints of that red bolle peeking through the 23k gold leaf on your giclee. A wonderful addition to your kitchen, weekend farm, or lake house with prices starting at only $56.
TABLE TALK: GIEN'S COQUETTES IS FRENCH FARM TO TABLE CHARM
Gien Earthenware is the most prestigious French manufacturer of earthenware. Its fame comes from flawless know-how, and from striving to blend craftsmanship, tradition, and creativity together. Four different species of hens adorn the Coquettes pattern with their plumage painted in watercolor. In France, they are the symbol of the good life, a style at home in chic urban tables and rustic country kitchens as well. The collections includes collectible egg cups, mugs, cups and saucers, and bowls along with dinner plates and serving pieces. Prices from $40.
Our formal china collection is on display at the Mountain Brook location only.
Please contact our bridal consultants at one of these locations:
Janice, Vanissa & Courtni: Mountain Brook 205-871-3276 mbbridal@brombergs.com
Katy Rose: Bromberg's at the Summit 205-969-1776 sbridal@brombergs.com
GIFT GAB: RIEDEL CELEBRATES, YOU SAVE!
Bromberg's has a long family legacy with 180 years in business (the oldest family owned business in Alabama) but the Riedel family has almost 80 years on us! This year, the Austrian glass maker celebrates its 260th Anniversary. Our history together goes back many years also. Several generations of the Riedel family have come to Bromberg & Company over the years for wine tastings and educational seminars.
Hear what wine experts and 5-star chefs like Daniel Boulud have to say about Riedel's craftsmanship and innovation.
"The finest glasses for both technical and hedonistic purposes are those made by Riedel. The effect of these glasses on fine wine is profound. I cannot emphasize enough what a difference they make." -Robert M. Parker, Jr. The Wine Advocate
"The Riedel family has never stamped its name on a single bottle of wine. But over the past 50 years, this Austrian clan of master glassmakers has done more to enhance the oenophile's pleasure than almost any winemaking dynasty". -Time Magazine
To celebrate this momentous anniversary, we are please offer the 260 Years Celebration Collections in sets of 6, just in time for summer gatherings at the lake or beach.
Vinum Chardonnay $99
Riesling/Zinfandel $49
Riedel O Cabernet/Merlot $49
FYI"¦ Our registered brides save 20% on attendant and hostess gifts and we™ll even wrap them for you in the traditional Bromberg's silver box!
Need a gift in a hurry? Call us, we are more than happy to charge your gift, wrap it, and ship it for you! Phone: 205-871-3276
All registered brides receive these benefits: 20% off non-diamond wedding bands 20% off attendant gifts and hostess gifts Buy or receive seven place settings of china, crystal, or silver, get the eighth free! Bromberg's exclusive twelve month interest free club plan (with credit approval)
Read their wedding story and view their photos!