BIG WEEK FOR BRIDES: Skyros Week with Pie Lab Tasting Event Thursday, New Brackish Bow Ties, Lauren and Reese Get Married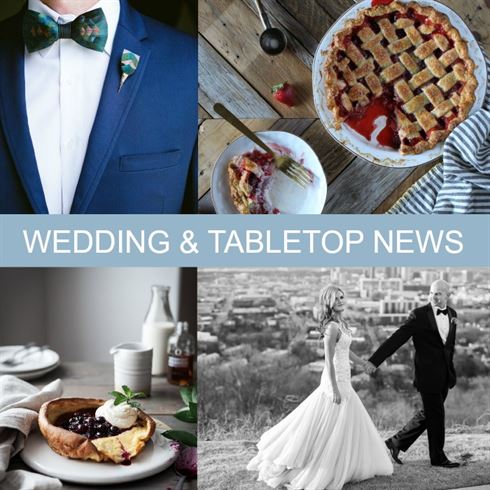 IN THIS ISSUE…
FEATURED WEDDING: LAUREN BELDEN & REESE GOODE
HAPPENING NOW: SKYROS TRUNK SHOW PLUS PIE LAB TASTING EVENT APRIL 6TH
GIFT GAB: BRACKISH BOW TIES
TABLE TALK: BERRY & THREAD NEW MELAMINE FOR OUTDOOR ENTERTAINING
BUYER'S CORNER: NEW FARMHOUSE POTTERY
EVENTS: VIETRI SPECIAL, SAVE-THE-DATE FOR JULISKA
---
HAPPENING NOW: SKYROS TRUNK SHOW PLUS PIE LAB PIE TASTING!
You will not want to miss our Skyros Tabletop & Pie Event on April 6th from 2-5pm during Skyros Week at Mountain Brook. Not only will you have a chance to sample and purchase homemade pies from Pie Lab, you will receive 20% off all Skyros dinnerware patterns including serving pieces plus our gift with purchase special. When you spend $300 or more in Skyros products, you™ll receive the Cantaria pie dish free! A $53 value.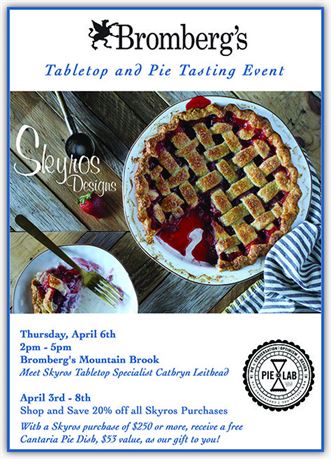 WEDDING TREND ALERT: Pie Bars are hot! Couples are opting for pie rather than wedding cake, especially in the spring and summer when you can readily find fresh strawberries, peaches, pears, and apples in season. Here are a few pie displays from Pie Lab; they'll create a menu that fits your wedding style and budget.
GIFT GAB: OUR BRIDES LOVE BRACKISH BOW TIES
Brackish Bow ties are the ideal accessory or gift for the outdoorsmen in your life and are perfect for farm, field, and outdoor weddings this season. Respectfully repurposing the beauty of nature, each feather is hand selected, guaranteeing that every bow tie and accessory is unique to itself and a timeless, one of a kind treasure. No dyes are used, giving each tie a unique coloring. Stop in to see our entire selection-these are just a few of the styles we have in stock. Due to high demand, they literally fly off the shelves so stop in now for the best selection. From $195
The Carew is made with all white Goose feathers; a special technique gives this tie a slightly ruffled look, adding interest, depth and dimension.
The Guinea is meticulously handmade from black and white patterned guinea fowl feathers that are placed, layer by layer, highlighting the natural contrasts in the plumage.
The Keel is crafted with pheasant and turkey feathers in deep blues with copper, gold and green accents designed with a special technique to create the mosaic pattern.
---
TABLE TALK: BERRY AND THREAD NOW IN MELAMINE
If the warmer temps have you ready to take dinner outdoors, have we got a surprise for you! You can now take your favorite china with you and not worry about breaking it; Juliska's ever-popular Berry and Thread pattern is now available in melamine! Made to look exactly like the original that we all LOVE, the new melamine dinnerware and acrylic glassware and Isabella bowl was made so that you may entertain with ease, wherever your adventures may take you; indoors, outdoors, or on the road. BPA free, dishwasher safe, top shelf recommended. Can you tell which is melamine and which is the original? From $14.
---
BUYER'S CORNER: FALL IN LOVE WITH FARMHOUSE POTTERY
Zoe and James Zilian traded city life in Boston for Vermont, where they fell for a modest-size Colonial home with apple trees and blueberry bushes. They installed a kiln and began creating pottery designed to reflect their simple farm life. Farmhouse Pottery is made from a stoneware recipe Zoe and James created themselves; they craft each piece using old world processes that require patience, dedication, and a passion for quality. Zoe and James feel they are creating heirlooms for today's families to be used, loved and passed along for generations to come. Come see for yourself; new items arriving daily.
Please contact our bridal consultants at one of these locations:
Mountain Brook 205-871-3276 mbbridal@brombergs.com
Janice, Vanissa & Courtni
Bromberg's at the Summit 205-969-1776 sbridal@brombergs.com
Katy Rose
---
---
EVENTS @ BROMBERG™S
PIE TASTING EVENT April 6th 2-5pm with PIE LAB & SKYROS
Join us for a pie tasting and tableware event with Skyros Designs
Spend $250 or more and receive a free Skyros Designs Cantaria Pie Dish! Our gift to you.
Ever consider serving pie at your reception. Let the Pie Lab make them for you!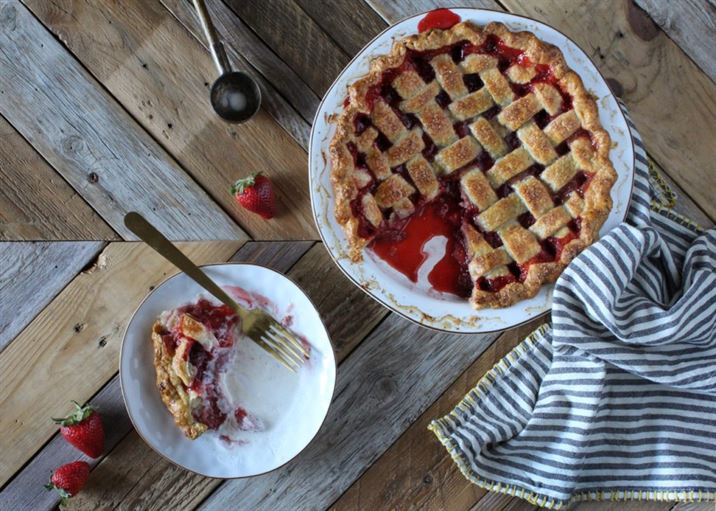 SKYROS TRUNK SHOW
April 3rd "" 8th
20% Off all Skyros Dinnerware patterns Including serving pieces plus our gift with purchase special. When you spend $300 or more in Skyros products, you™ll receive the Cantaria pie dish free! A $53 value.
---
VIETRI SPRING BONUS EVENT 5 days only: April 6-11, 2017
Spend $250, get $50 off
Spend $350, get $75 off
Spend $500, get $125 off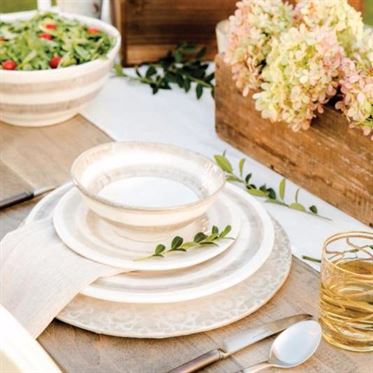 ---
SAVE-THE-DATE: JULISKA WEEK
May 1st -6th
Purchase $300 or more in Juliska products and receive a free Juliska crudité platter- a $95 value. More specials to be announced soon!