APRIL NEWS: Juliska Event Tomorrow, Gifts with Purchase, Kathleen and Josh Get Married
IN THIS ISSUE:
Real Wedding: Kathleen and Josh
Gift Gab: Gifts on Gifts on Gifts… Special Gifts with Your Purchase in Time for Mother's Day
Table Talk: New Juliska 'Le Panier' Debuts
Events: Juliska Spring Event This Thursday, April 16
GIFT GAB: MOTHER'S DAY GIFTS WITH A LITTLE SOMETHING SPECIAL FOR YOU…
We have quite a few special "gift with purchase™ offers happening just in time for Mother's Day and Spring weddings:
Get a complimentary bottle of Simon Pearce's special Herb Vinaigrette with your Simon Pearce purchases over $100 made between April 16th "" 30th. (One per customer and while supplies last.)
Receive a FREE Beatriz Ball Vento Bowl valued at $43 with your Beatriz Ball purchases of $75 or more made between April 21st and May 9th. Beatriz Ball is the perfect hostess, housewarming, or Mother's Day gift for that person in your life who loves to entertain. Stop in to see our collection at The Summit and Mountain Brook stores.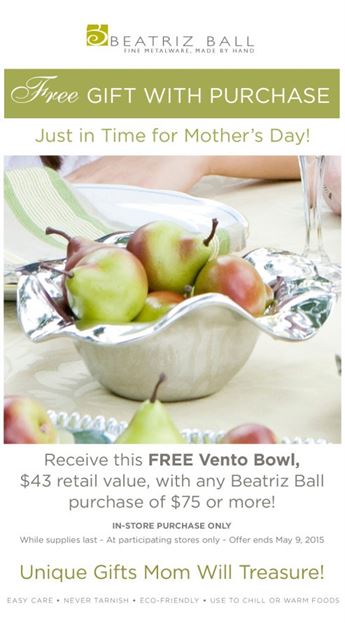 With Vietri purchases of $250 or more made between May 1st-10th, you™ll receive a complimentary Forma cloud tray; valued at $59.
Examples of our Simon Pearce, Beatriz Ball, and Vietri collections below:
FYI"¦ Our registered brides save 20% on attendant and hostess gifts and we™ll even wrap them for you in the traditional Bromberg's silver box!
TABLE TALK: NEW JULISKA PATTERN "˜LE PANIER™
Juliska has long been one of our customer favorites and their latest addition, Le Panier, may just oust Berry and Thread as our most popular Juliska pattern. Made in Portugal of ceramic stoneware, it is freezer, microwave, and dishwasher safe and is detailed with a beautifully subtle French basket weave pattern often found in equestrian or nautical traditions. Available in Whitewash, Chambray, Ruby, and Almond. Add a few pieces in white to layer with your existing pattern or add the red for the holidays. Make your Juliska purchases during our Juliska Spring event on Thursday, April 16th for special savings and giveaways including the chance to win a large Berry and Thread footed cake plate! ($145 value) For the Spring event, the first 30 Juliska customers will receive a free gift!
Don™t forget that our formal china collection is on display at the Mountain Brook location only.
Please contact our bridal consultants at one of these locations: Janice, Vanissa & Courtni: Mountain Brook 205-871-3276 mbbridal@brombergs.com Bromberg's at the Summit 205-969-1776 sbridal@brombergs.com
REAL WEDDINGS: KATHLEEN AND JOSH
Click here to see photos and read the story!
Bromberg's Brides Club Benefits All registered brides receive these benefits: 20% off non-diamond wedding bands 20% off attendant gifts and hostess gifts Buy or receive seven place settings of china, crystal, or silver, get the eighth free! Bromberg's exclusive twelve month interest free club plan (with credit approval)
EVENTS: JULISKA ANNUAL SPRING EVENT APRIL 16, 2015
THE ONE YOU LOOK FORWARD TO!
9:30 am "" 5:30 pm Mountain Brook only
Yes, just in time for Mother's Day, bridal teas, and wedding gifts, it is our annual Juliska Spring event. Not only will you receive our customary "buy 7 get the 8th one free" completion program savings, you™ll get a Berry and Thread baker (valued at $68) with your Juliska purchase of $250 or more. In addition, you™ll have the chance to register for a free Juliska cake stand ($150 value) and if you™re one of the first 30 customers that day, you™ll get a little gift from Juliska, too! Call Mountain Brook for more details: 205-871-3276