8 Valentine's Day tips for finding the perfect piece of jewelry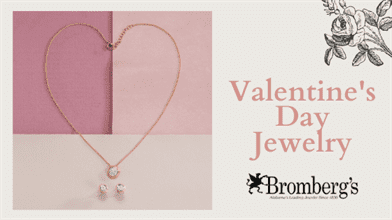 The most romantic day of the year is quickly approaching: Valentine's Day, 2020. Have you thought about THE gift yet?
A thoughtful Valentine's Day gift sets the tone for the relationship and can take you to new levels as a couple. It can also show a friend or loved one just how much they mean to you.
At Bromberg's, we wrote the book on romantic moments, and we're happy to share that expertise with our customers.
We've compiled a list of essentials to remember before gifting that special someone with a new piece of jewelry.
8 tips for flawless Valentine's Day gifting
Silver, gold, or something else?
Do you know if he or she is most likely to wear something silver or gold? Or, would they prefer something else, such as rose gold or a leather band on a watch, instead of metal? Knowing their personal preferences helps you narrow down the type of jewelry your loved one is most likely to wear and appreciate.
What you buy should reflect the length of your relationship.
If the relationship is six months or less, it's best to keep it simple with a necklace, stud earrings, or a delicate bracelet. If you're married, then consider something with a little more substance, such as a beautiful timepiece. The type and style of jewelry you give should reflect the status of the relationship.
Engrave it with something special
There's no better way to show someone that you care by inscribing something special on a piece of jewelry. Even something such as "Happy Valentine's Day" helps you both to remember the moment that the jewelry was given and received. It's a unique way to add to the romance and meaning behind a gift of jewelry.
Think beyond the heart motif.
Valentine's Day approaching means that you typically see hearts everywhere when you walk into a store. Don't be afraid to go against the flow when it comes to purchasing heart-shaped jewelry. While we have a selection of heart-shaped pieces, there are many other items that would work well for Valentine's Day, such as simple stud earrings or a classic strand of pearls.
Not planning to propose? Keep it simple.
Valentine's Day is dedicated to romance. We see many couples getting engaged around the holidays, and this trend continues through Valentine's Day in many cases. That said, if a proposal is not on the horizon, gifting a ring may be misinterpreted.
Find out his or her birth month.
Do you know which birthstone is theirs? Did you know some months have more than one? Incorporating gemstones with meaning can add to the fun of jewelry gifting on Valentine's Day. From amethyst (February's birthstone) to opal (October's birthstone), there are a variety of options for incorporating gems into your Valentine's Day gifts.
Do your homework.
While many stores offer specials and promotions on jewelry this time of year, it's important to purchase your pieces from a vendor or store you can trust. Bromberg's is a proud member of the American Gem Society, an organization founded to "protect the jewelry-buying public from fraud and false advertising." As with any major purchase, it's essential to do your homework before you buy.
Ask for a professional to help.
The team at Bromberg's can help you find the perfect piece for your sweetheart. Please stop by our locations at The Summit or Mountain Brook Village, and one of our sales professionals will be happy to help.
About Bromberg's
It's Bromberg's mission to provide clients with an unforgettable and enjoyable luxury experience. We operate two Birmingham fine jewelry stores located in Mountain Brook Village and the Summit. At each of our locations, we provide meticulous attention to our products to ensure quality for our loyal customers. If you are looking for that special piece, need a jewelry repair or appraisal, or just have a general question or comment, please contact us.