Questions About Popping the Question?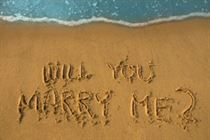 The movie "˜When Harry Met Sally™ summed it up best with the line "when you realize you want to spend the rest of your life with somebody, you want the rest of your life to start as soon as possible." And for many people it's that realization that leads to a proposal of marriage. That is where we come into the story. We are engagement ring experts and when it comes down to planning a beautiful and memorable proposal, we™ve got you covered. To get you started off on the path to proposal perfection here are answers to some of the most commonly asked questions about popping the question.
Q. How do I pick a ring that my beloved will love?
A. In this day and age this is often one of the easiest questions we answer. Pinterest! If you aren™t sure what style engagement ring she would prefer, look up her Pinterest page. If she doesn™t have a Pinterest board about jewelry or weddings (that you can see, that is, because she might have a secret board), ask her best friend or sister to help you out. They might start a conversation with her about their dream ring by showing her pics they have saved on Pinterest and in the process find out her preferences.
Q. How much should I be expected to pay for a ring?
A. This is a question only you can answer, but our advice is to choose a budget that you feel comfortable with and try to stick to it. And when choosing a ring, choose quality over carat weight every time.
Q. How do I make sure I'm getting a quality diamond?
A. First and foremost make sure that you are shopping with a jeweler you can trust. We are proud to be members of the American Gem Society. AGS members adhere to the highest standards of business practices and ethics so that you can buy with confidence from jewelers you can trust. AGS Standards not only comply with governing laws, but go beyond that to ensure that you are buying from jewelers who have the knowledge and skill to help you make the most informed buying decision.
Secondly, while everyone has heard of the 4 C's of diamond buying: Cut, Carat, Color and Clarity, what many people don™t realize until they start shopping for a diamond is how the 4 C's interact with each other when determining value. At Bromberg's we make providing diamonds with the finest cut grades available a top priority, because the cut (meaning the way light performs when it entered a diamond, not the shape of the diamond) is what brings out a stone's greatest beauty and brilliance You can trust our experienced, AGS trained associates to help you pick a stone that is the right balance of quality and value. If you choose a more modest diamond to begin with because finances are an issue but aspire to grow your fiancé's diamond to a larger stone in the future we are here to help with that as well.
Q. Should I make my proposal a surprise?
A. If you are confident that she will say yes, then a surprise proposal is pretty hard to beat. If you do plan a surprise proposal you should consider whether or not your partner is shy before you do something in a big public way. If you need fabulous ideas for a memorable proposal, we are glad to help you plan something you both will look back on with delight. Try to make your proposal unique. People will ask you both how you proposed and not just after it happens but from time to time for the rest of your lives. Regardless of what kind of proposal you plan, enlist someone to have a camera ready nearby to capture the moment as it happens.
Q. Should I ask her parent's permission?
A. If at all possible, we think you should speak to her parents about your intent before you pop the question. Why? It may seem very old fashioned, but it is a matter of good manners. If your intended is of a traditional mindset, you will want to arrange to meet with her father or both parents to ask for their approval. If you are in love with a woman who is very progressive and doesn™t like the idea of needing anyone's permission to do anything, you still want let her family to know of your intent, even if you aren™t actually asking for their input on the matter. It will still show that you respect them as her family.
Q. Should I get down on one knee to propose?
A. In a word, YES. Unless you have a physical disability that prevents you from doing so, getting down on one knee if a must. It is tradition. She will swoon when you this and you don™t want to miss out on that, do you? Expect happy tears and not just from her but from any other woman who happens to be around.
Q. If I plan a surprise proposal how do I determine the correct ring size?
A. If you don™t know the ring size of you partner, you needn™t fret. There are a few different tactics you can use to find the size out. If you can get your hand on a ring that they wear on their left ring finger you can click on our ring sizing chart (below) and print it out to determine the correct size. If you need other ideas for how find out her size, call us. We have ways!
Q. What happens after I propose?
A. Take some time to enjoy a least a few moments together before you announce your engagement to the world. There will be many phone calls (call both sets of parents first) and social media posts to announce the happy news. Expect both your phones to blow up. Then plan for your respective parents to meet and the wedding planning will begin in earnest.