PERSONALIZED PATTERNS FROM PICKARD, SASHA NICOLAS MONOGRAMS, NEW JARS PATTERN PLUS CALLIE AND MALCOLM GET MARRIED!
GET PERSONAL WITH PICKARD AND SASHA NICOLAS PATTERNS, NEW JARS PATTERN FROM FRANCE, PLUS CALLIE AND MALCOLM GET MARRIED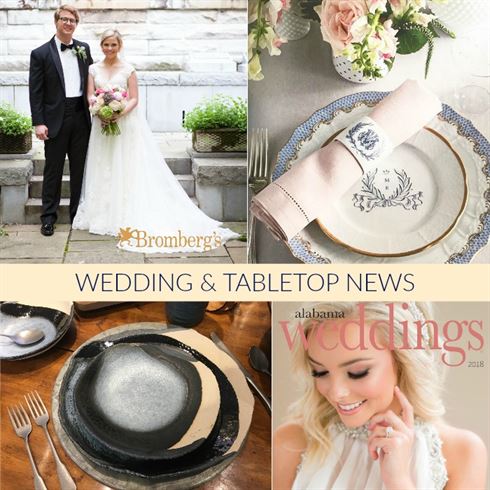 IN THIS ISSUE:
FEATURED WEDDING: CALLIE AND MALCOLM
GIFT GAB: Sasha Nicolas Personalized Gifts
TABLE TALK: Get Personal With Pickard Monograms
BUYER™S CORNER: Innovative New Jars Pattern from France Is Microwave and Oven Safe
A YEAR OF BROMBERG'S BRIDES: 2017
CONGRATULATIONS TO OUR NEWLY ENGAGED COUPLES! IT IS WEDDING SEASON!
Yes. that is a stunning Bromberg's diamond engagement ring on the cover of Alabama Weddings magazine! You'll also find our china, crystal, and accessories within the pages with tons of fresh ideas for flowers, receptions, gowns, and much more- on newsstands now. Stop by our stores for a free copy while supplies last.
GIFT GAB: GET PERSONAL WITH SASHA NICHOLAS
We love Sasha Nicholas and so do our brides- for gifting and getting! Get a head start on your bridesmaid and hostess gifts by ordering personalized gifts now: monogram Sasha coasters, petite bowls, hostess platters, Champagne buckets, or napkin rings for an extra special gift in wedding colors. Brides are even ordering monogrammed chargers or salad plates for their head table placesettings and then go on to use them after the big day! Prices begin at $30.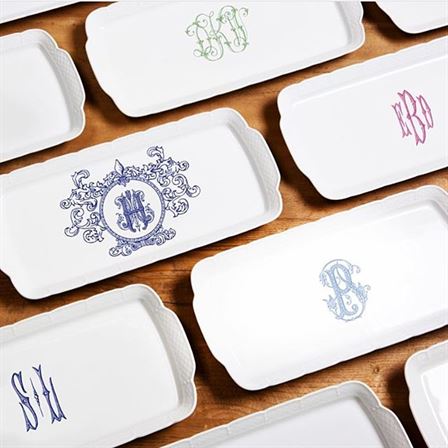 Need a gift in a hurry? Call us, we are more than happy to charge your gift, wrap it, and ship it for you! Phone: 205-871-3276
FYI"¦ Our registered brides save 20% on attendant and hostess gifts and we™ll even wrap them for you in the traditional Bromberg's silver box!
TABLE TALK: PICKARD CHINA OFFERS MORE MONOGRAMS FOR BRIDES
Pickard China graces the tables of Air Force One, Blair House, Camp David, Gracie Mansion, King of Saudi Arabia, and U.S. Embassies all over the world. Known for classic design and timeless style, the white and ivory china made in the U.S.A. is designed to accommodate a crest or monogram. As many brides design a wedding monogram or logo for their stationery suite, our staff can help you design coordinating monogrammed pieces for your wedding registry or to add new flair to your existing china pattern. Looking for the perfect monogrammable pattern? Pickard Georgian, shown below, available in colors and is a classic that will always be stylish. Prices begin at $36.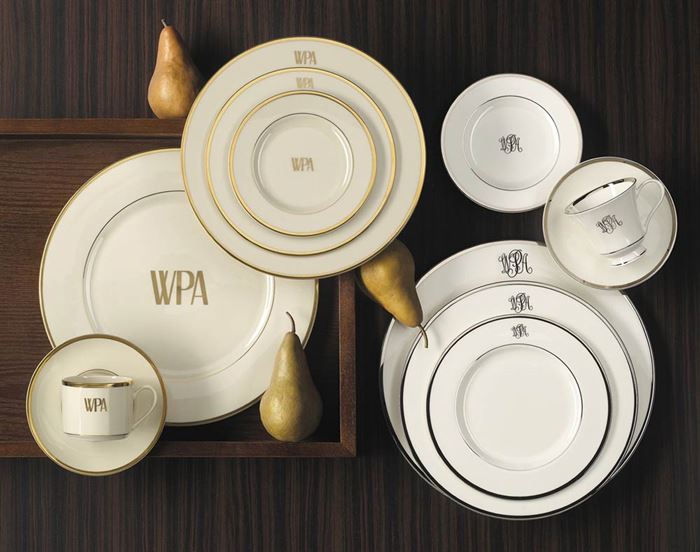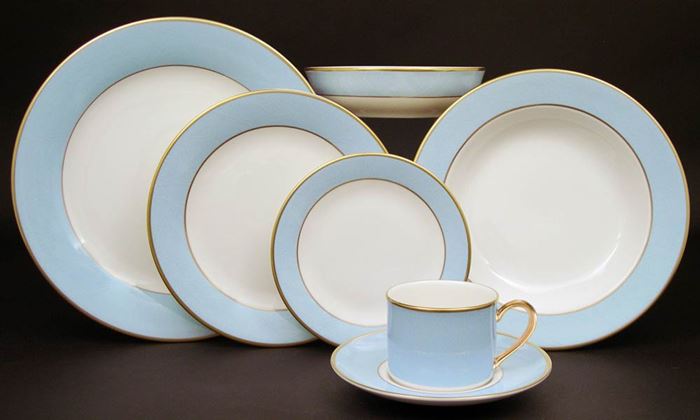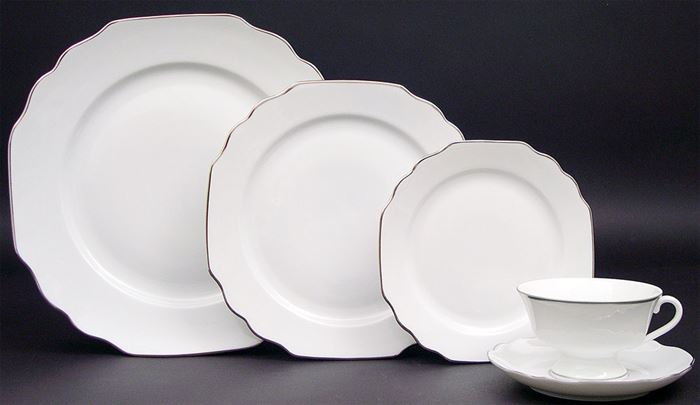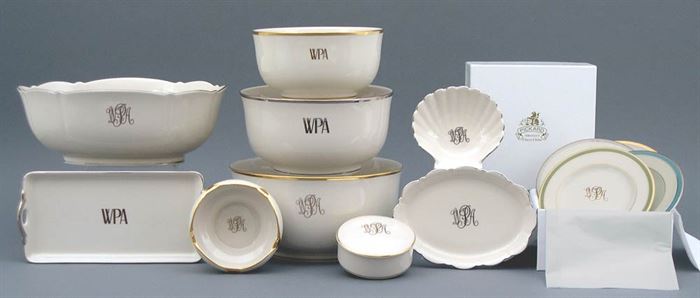 NOTE: Formal china is on display at our Mountain Brook location only.
BUYER™S CORNER: NEW JARS WABI PATTERN IS RUSTIC AND ARTISTIC
A balance of style, form and function-come see the tablescape featuring the new Wabi pattern from Jars. This ceramic stoneware handmade in France features rough edges, rich colors and is dishwasher safe and oven safe to almost 392 degrees Fahrenheit. From its roots in horticultural pottery through to today's much sought-after contemporary tableware collections in glazed stoneware, Jars™ history spans more than 150 years. The company's rich history and highly guarded skills used in producing the collection has earned Jars the prestigious Entreprise Francaise du Patrimoine (Vivant French Companies of Living Heritage) status. Prices: $48-$84.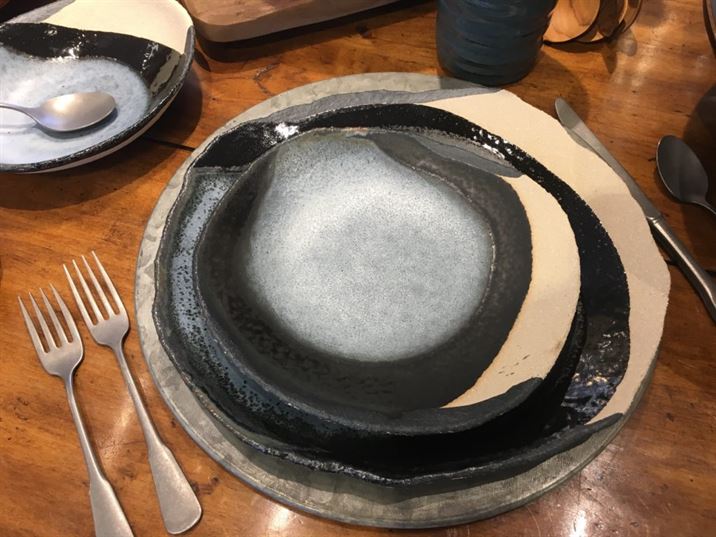 BROMBERG™S GIFT REGISTRY BENEFITS
All registered brides receive these benefits:
20% off non-diamond wedding bands
20% off attendant gifts and hostess gifts
Buy or receive seven place settings of china, crystal, or silver, get the eighth free!
Bromberg's exclusive twelve-month interest free club plan (with credit approval)
CONTACT ONE OF OUR BRIDAL CONSULTANTS
Mountain Brook 205-871-3276 mbbridal@brombergs.com
Ask for Janice or Vanissa.
Bromberg's at the Summit 205-969-1776 sbridal@brombergs.com
Ask for Katy Rose or Lisa.
See their wedding images and read their story"¦.
EVENTS AT BROMBERG™S
BROMBERG™S ANNUAL CHRISTMAS TREE PHOTO CONTEST WINNER!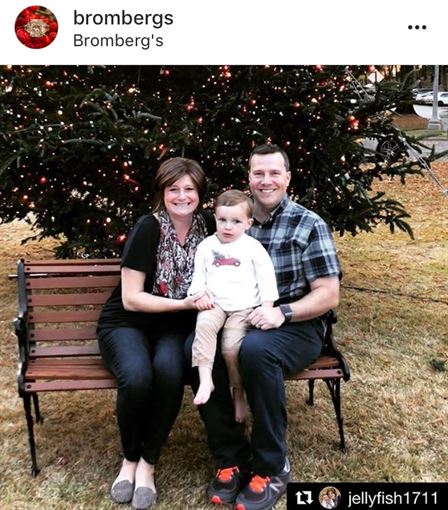 Our annual holiday Christmas tree has been the background for many family photographs, Christmas cards, and selfies again this holiday season. Many of you stopped by our Mountain Brook store to have your photo made in front of the tree; it has been a Birmingham tradition for more than a decade. This year, we tracked your posts using the hashtag #brombergstree and have awarded a $500 Bromberg's gift card to this lucky winner! Congratulations, Jessica Hamby!
ICYMI: OUR FEATURED WEDDING RECAP 2017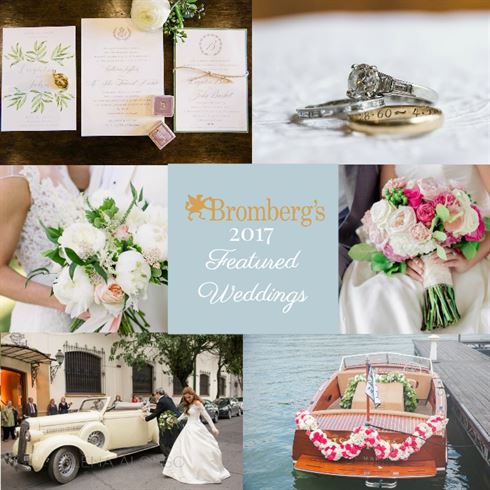 From Argentina to Lake Martin… our brides were all over the globe in 2017. See some of our favorite photos from our featured wedding stories and get ideas for your own wedding… from engagement rings, details, flowers, bouquets, and cakes to grand exits and unforgettable getaways!